THICK FILM HYBRID CIRCUITS ON ALUMINA & ALUMINIUM NITRIDE
Since 40 years, AUREL is leader in thick film technology.
AUREL can design and mass produce Thick Film Hybrid Circuits on Alumina ( Al2O3)  and on Aluminium Nitride (AlN) on complex geometry substrates, also provided with laser made metal coated pass-thru holes.
Alumina subtrate high thermal and mechanical stability is extremely suitable for chip & wire components.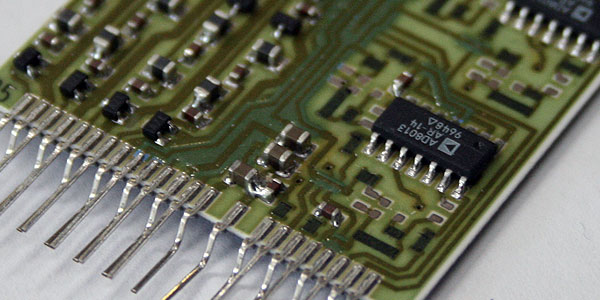 Using last generation screen printing machines, AUREL can reach a very high integration density (net lines up to 150um) providing a very high reliability on the products.
BENEFITS
Thick film technology  is one of the most efficient technologies to assemble electronic circuits, offering the following possibilities:
Very dense interconnection nets on thermically conductive substrates
Low cost multilayer structures
High performance resistors via screen printing
Full functional trimming of assembled circuits in automatic stations
High circuit integration levels
Thick film Technology versatility is offering economical solution in several application fields:
automotive – avionics
consumer products – information technology
sensors – biomedical
telecommunications, research
AUREL is able to design and product many type of thick film hybrid circuits, for the most several application:
Single in Line hybrid circuits (SIL)
Dual in Line hybrid circuits (DIL)
Double face hybrid circuits
Double face hybrid circuits with plated holes
Radio Frequency hybrid circuits
Hybrid circuits for power applications
Hybrid circuits for power applications
Hybrid circuits with Die components
Hybrid circuits with mixed technology
Multilayer hybrid circuits
Thick film sensors and remain resistive
Protection and encapsulation of the hybrid circuits
More information about hybrid circuits?

Fill in the module to receive more information about hybrid circuits. You will receive an answer as soon as possible.