High thermal conductivity technologies for power lighting applications
The steady growth of the power led market led the lamps manufacturers to marry technological solutions able to dissipate the heat generated from LEDs more and more quickly, ensuring performance even in adverse conditions.
The most common dissipation way is to insert an additional dissipative layer, typically a MC-PCB, between the LED and the heat sink with a manual fixing.
Power lighting solutions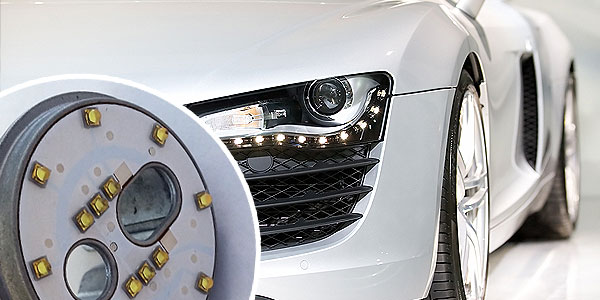 Applications: automotive & entertainment
As an alternative, AUREL offers an power led assembly manufacturing service directly on the heat-sink, where as first step, it's screen-printed a dielectric material on the aluminum heat-sink and then, a complete electronic circuit interconnection with also pad where it's soldered/glouded Power Leds.
BENEFITS
A technology that brings the following benefits:
Simplified production process
Less material usage
Total thermal conductivity highly improved
Quick layout design
Cheap heat sink made on aluminum
Request info for power lighting application