AUREL is specialized in the SMD mounting circuits and electrical components for small and medium samples. Assembling printed circuits with SMT technology with SMD components with pick and place automatic lines.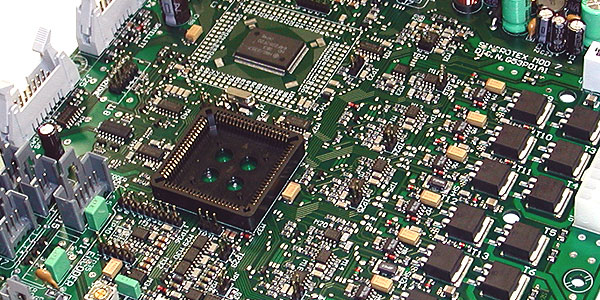 AUREL is leader in SMT technology and offers to the own clients an expert team dedicated and competitive equipments to achieve in outsourcing mode SMT technology hybrid circuits.
AUREL produces dual layer SMD circuits, with components welded on one or both surfaces and with plated holes. Mounting electrical components and functional test.
In addition to traditional SMD components, AUREL carries out the Odd-Form mounting components, thanks to automatic systems of AUREL Automation.
The SMT surface mounting technique (Surface Mounting Tecnhology) with SMD components consists on placing components and welding pins on the same layer,  with an evident simplify of pick and place process, weld and high component density.
The surface mounting device (SMD) technology can be performed in FR4 circuits (printed circuits) and alumina thick film substrates too.
PICK&PLACE BGA
Thanks to automatic assembly Pick and Place lines, AUREL is able to mount BGA and CSP (Chip Scale Package) components and then to verify the process of welding by X-rays control.
AUREL is able to assembly electrical components with leed-free or tin-lead alloys (RoHS).
The SMD components are designed to have minimal weight and volume as possible until measurements 0402, 0201, 0105.
Thanks to the very high experience in the SMD assembly, AUREL gives electrical production services (EMS), following all the project phases from the purchase of very low-price components and printed circuits, all this thanks to a MRP system (Material Requirements Planning).
ENQUIRY