Circuits on metal substrate (aluminum) for the power applications in IMS technology.
IMS Technology is well suitable for applications where electronics is handling very high currents, up to several hundred Ampere, with need of thermal dissipation and mechanical strenght.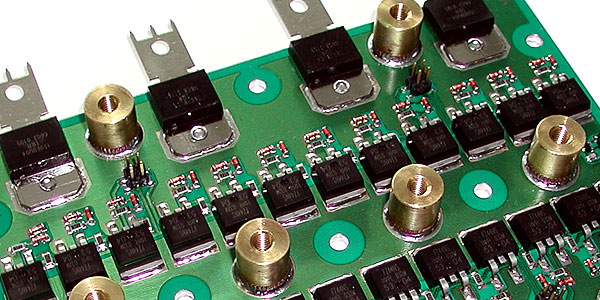 The superior ductility of aluminum metal is an advantage during the work-shop mechanical operations and also makes easy the installation of electronic cards onto the thermal dissipation supports.
IMS means  "Insulated Metal Substrate". The IMS substrate consists in a metal base of several thicknesses, dielectric insulate and a copper conductor layer.
In the IMS power circuits exist many combinations of aluminum thickness, insulate and copper layer.
APPLICATIONS
The power solutions on metal circuits can be matched both in the power branch and light load control branch (lighting).
It's possible assemble all the SMD components on IMS power circuits with some limitations.
Aurel is specialized on the mechanical manufacture with CNC or V-Scoring equipments in case of small and medium series, in case of high series with special metal sheet shear. For the last manufacture for high volume, the tiling and the distance between one figure and the other must be assess by our technique office.
AUREL achieves electronic circuits on metal substrates like copper and aluminum, (IMS) metal-cored pcb for the followed applications:
INDUSTRIAL – power suppliers,  inverters, soldering machines
AUTOMOTIVE – ignition, electronic control units, lamp gears,  fan controls
LIGHTING – light sources, street lights, power leds, power ligthing (Download PDF)
SOLAR ENERGY – inverters, concentration units
SERVICES
AUREL thanks to his deep experience in the power branch can provide:
Realizing layout
Building prototype
Purchasing components
pre-shaping components
Providing first materials incised and worked
Assembling sheet shear
Designer and building of fixtures for rifusion
Manufacturing small and big volumes
Functional testing
Dielectric rigidity testing
Rays-X control on the power devices welding
Production of "RoHS compliant" (on the asking)
ENQUIRY