DIE ATTACH ASSEMBLY
The assembly technology Chip on Board (COB) consists in depositing epoxy or silicon protection on the head of the die component for encapsulating and protecting.
The technology chip on board can be used on the Radio-frequency field and through a right combination of assembly technologies is applied to many types of substrates.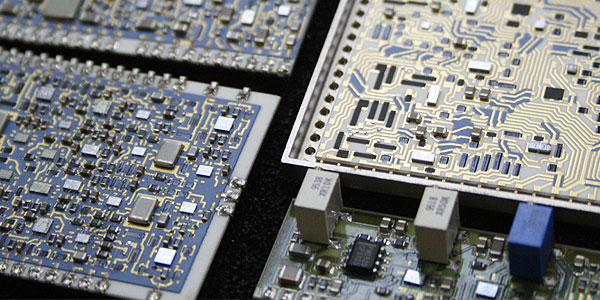 Chip on Board (C.O.B) means the assembly technology of the semiconductor in which the microchip components, called "die", are mounted directly on the substrate without packaging.
The general term for COB technology is "direct connection chip" or DCA where electrical connections to the circuit are realized with very thin gold or aluminum wire (bonding).
The chip can be protected with Glob-Top, in alternative the wide circuit for Hi-Rel applications, can be closed inside the hermetic metal container.
The Chip on Board technology consists in depositing epoxy or a silicone protection on the head of the die component to encapsulate and to protect.
This solution allow a rapid modify of the design production when the dimension is the main element thanks to small size.
BENEFITS
Dropping the packaging of the assembling, it's possible semplify the layout and the production processes of the final circuit. Chip on Board technology allows:
High component density
Fast substitution of the compone
Less free-place in the circuit
Less cost
More reliability thanks to a better dissipation heat
Less welds
Faster time-to-market
Better protection against the reserve-engineering
ENQUIRY